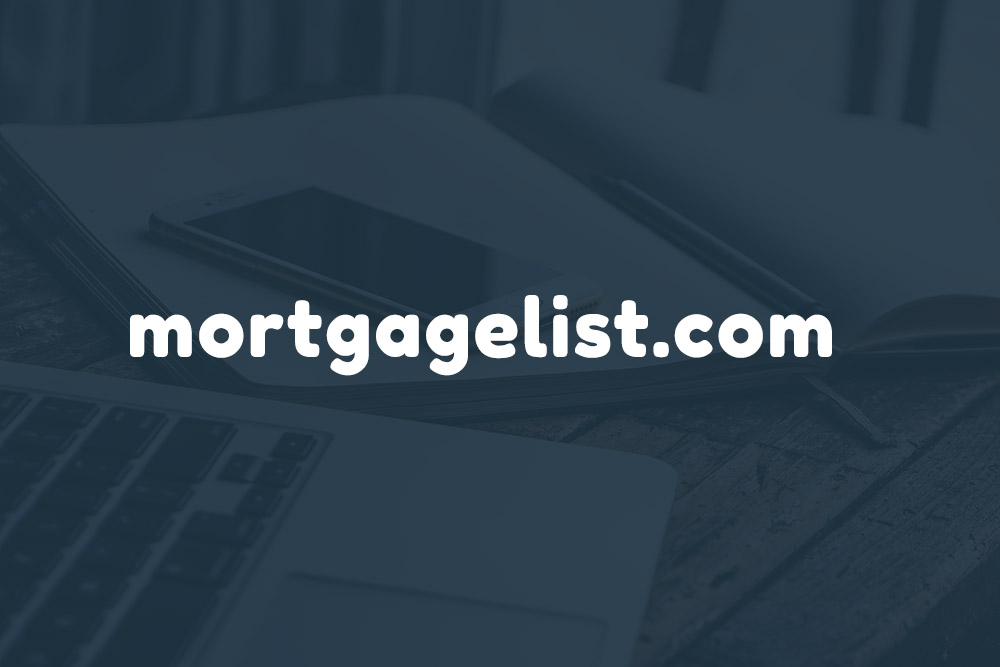 Originally Created
03/22/2002
Registrar
GoDaddy.com, LLC
Archive.org / WayBack Machine
About The Domain
Premium 8 letter .COM
This domain had been acquired for a client that was building on online list of mortgage companies as an affiliate marketing venture.
"mortgage list." Definitions.net. STANDS4 LLC, 2022. Web. 28 Apr. 2022. <https://www.definitions.net/definition/mortgage+list>.
Google Estimated Value: $4,314
Interested In Direct Purchase?
Mortgage List?
A mortgage list is a great way to keep track of your finances and make sure you are getting the best deal on your home loan.
If you're in the process of buying a home, you've probably already put together an extensive list of things that you need to do in order to get your new home ready for move-in day. You've got lists for all of the furniture and household items you need to purchase, but have you thought about what kinds of documents you need to keep? From mortgage documents to insurance policies, here are some lists of documents that will help make your life easier when it comes time to move into your new home.
Get Pre-Approved
It's always a good idea to get pre-approved for a mortgage before you start shopping for a home. This will give you an idea of how much money you can borrow and what interest rate you can expect to pay. Plus, it will show sellers that you're serious about buying a home. To get pre-approved, simply contact a list of mortgage companies and provide them with some basic information about your financial situation.
Understand The Fees
When you're shopping for a mortgage, be sure to ask about all the fees associated with the loan. A good lender will be happy to give you a list of all the fees they charge. Be sure to compare these fees among different lenders before you choose one. You don't want to be surprised by hidden fees later on.
Shop Around
It's important to shop around when you're looking for a mortgage. There are a lot of different companies out there, and each one offers different rates and terms. By shopping around, you can make sure you're getting the best deal possible.
Get in Touch With Loan Officers
You should get in touch with different loan officers from various companies in order to compare rates and terms. It's important to know what each company has to offer before making a decision. You can use a list of mortgage companies to help you keep track of who you've contacted and who you still need to reach out to.
Meet With Lenders In Person
It's always a good idea to meet with lenders in person so that you can get a feel for their customer service and ask any questions you may have about their services. You should also bring a list of mortgage companies with you so that you can compare rates and terms. Be sure to bring your financial documents with you so that the lender can get an accurate picture of your financial situation.
Know Your Numbers
Before you start shopping for a mortgage, it's important to know what you can afford. A good rule of thumb is to spend no more than 28% of your gross monthly income on housing costs, including your mortgage payment, property taxes, and insurance. To calculate this, simply take your monthly income before taxes and multiply it by 0.28. This will give you an idea of what you can afford each month without breaking the bank.